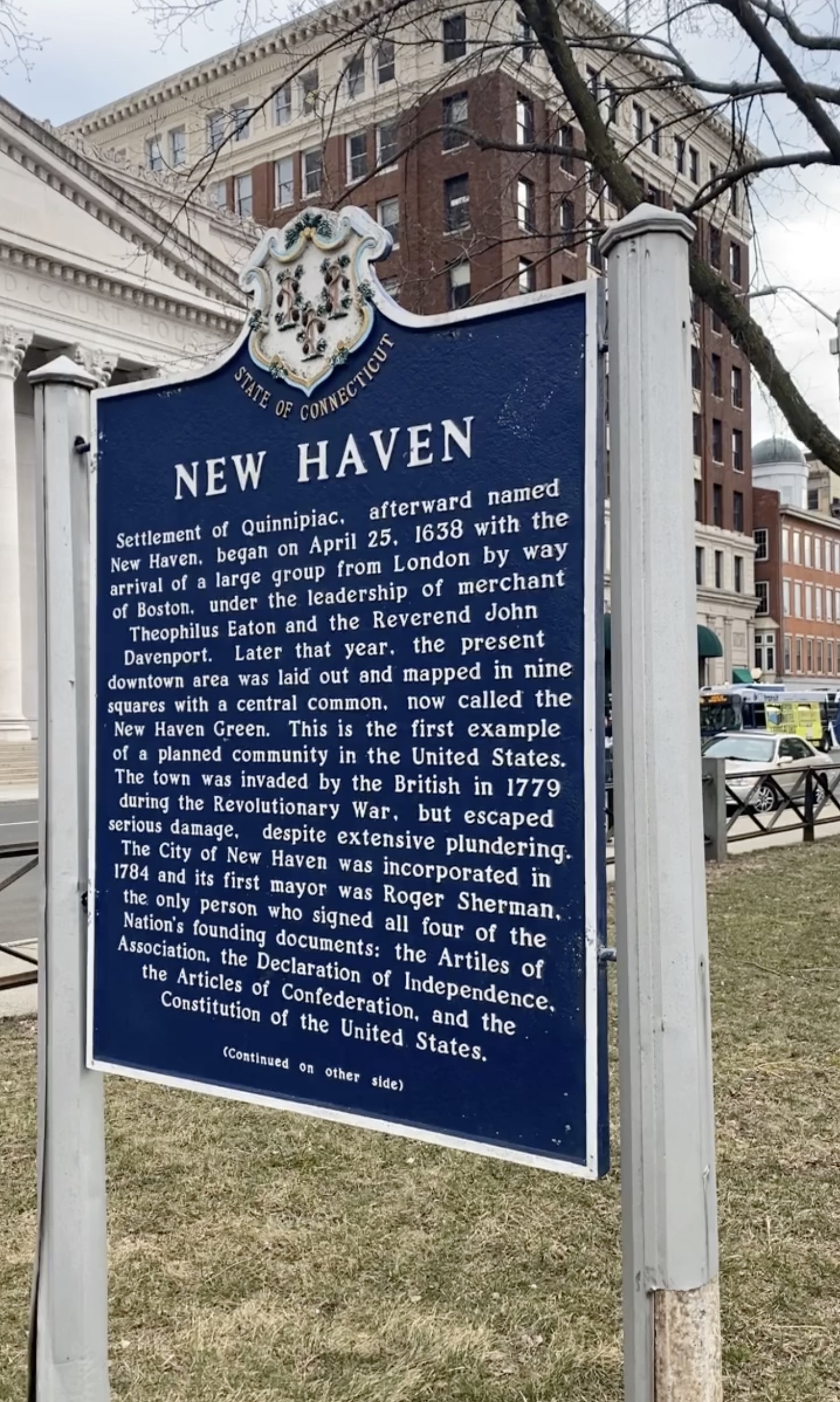 New Haven, Connecticut:
"Settlement of Quinnipiac, afterward named New Haven, began on April 25, 1638 with the arrival of a large group from London by way of Boston, under the leadership of merchant Theophilus Eaton and the Reverend John Davenport. Later that year, the present downtown area was laid out and mapped in nine squares with a central common, now called the New Haven Green. This is the first example of a planned community in the United States. The town was invaded by the British in 1779 during the Revolutionary War, but escaped serious damage, despite extensive plundering. The City of New Haven was incorporated in 1794 and its first mayor was Roger Sherman, the only person who signed all four of the Nation's founding documents: the [Articles] of Association, the Declaration of Independence, the Articles of Confederation, and the Constitution of the United States.

New Haven Harbor, the largest port on Long Island Sound, was the scene of an active fishing and sailing trade in the 19th century. New Haven in 1840 was the setting for the AMISTAD trial, in which fifty-two black slaves, who had mutinied aboard a Spanish slave ship of that name after being kidnapped in Africa in defiance of law, were cleared of all civil charges brought against them. The city later became noted for manufacturing. New Haven is the site of a number of schools of higher learning, including Yale University, founded in 1701, South Central Community, Southern Connecticut State, and Albertus Magnus colleges, and Berkeley Divinity School. The homes and many institutional buildings of New Haven reflect the work of noted architects from the 18th century to the present. Since the 1950's, New Haven has received national acclaim for its efforts to renew and preserve the downtown and distinctive neighborhoods.

Erected by the City of New Haven
the New Haven Colony Historical Society
and the Connecticut Historical Commission
1979″
CT Blue Town Sign 1 of 169.
View on Instagram: https://www.instagram.com/p/CM1u5HEHNVi/