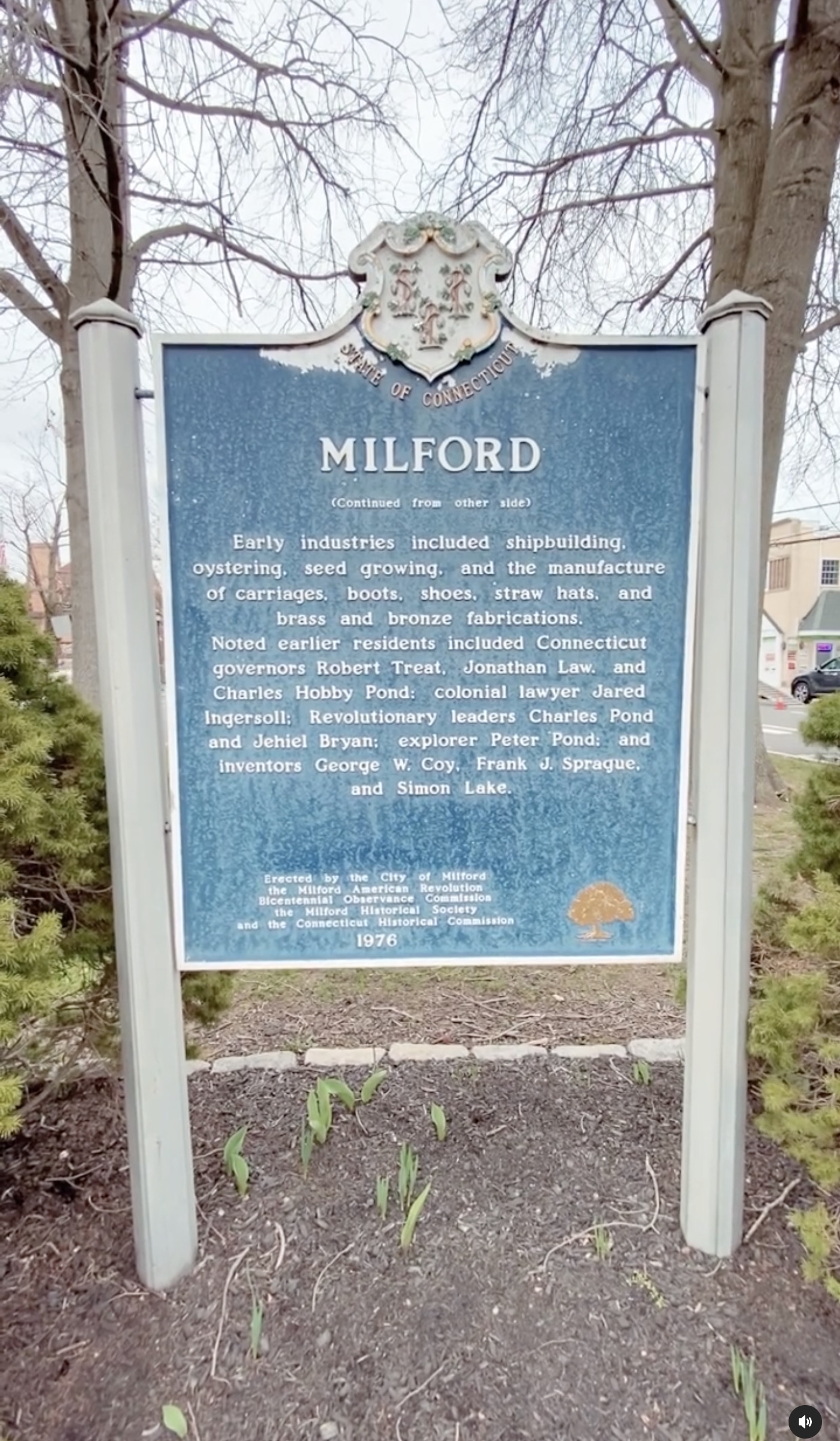 Milford, Connecticut:
"This area was settled in 1639 as an independent colony by a congregation of English Puritans led by their minister, the Reverend Peter Prudden. Land was purchased from Ansantawae, a sachem of the Paugusset Indians, and originally named Wepawaug. It was renamed Milford in November, 1640, joined New Haven Colony in 1643, and Connecticut Colony in 1664. Among the Regicides responsible for the trial and execution sentence of English King Charles I were William Goffe and Edward Whalley, who were sheltered here from royal authorities between 1661 and 1664. A Connecticut group led by Robert Treat of Milford founded Newark, New Jersey, in 1666. The Reverend Samuel Andrew served as rector of Yale College from 1707 to 1719 and instructed the senior class in his home here.

Early industries included shipbuilding, oystering, seed growing, and the manufacture of carriages, boots, shoes, straw hats, and brass and bronze fabrications. Noted earlier residents included Connecticut governors Robert Treat, Jonathan Law, and Charles Hobby Pond; colonial lawyer Jared Ingersoll; Revolutionary leaders Charles Pond and Jehiel Bryan; explorer Peter Pond; and inventors George W. Coy, Frank J. Sprague and Simon Lake.

Erected by the City of Milford
the Milford American Revolution
Bicentennial Observance Committee
the Milford Historical Society
and the Connecticut Historical Commission
1976″
CT Blue Town Sign 2 of 169.
View on Instagram: https://www.instagram.com/p/CNL-tZ-Hv_0/