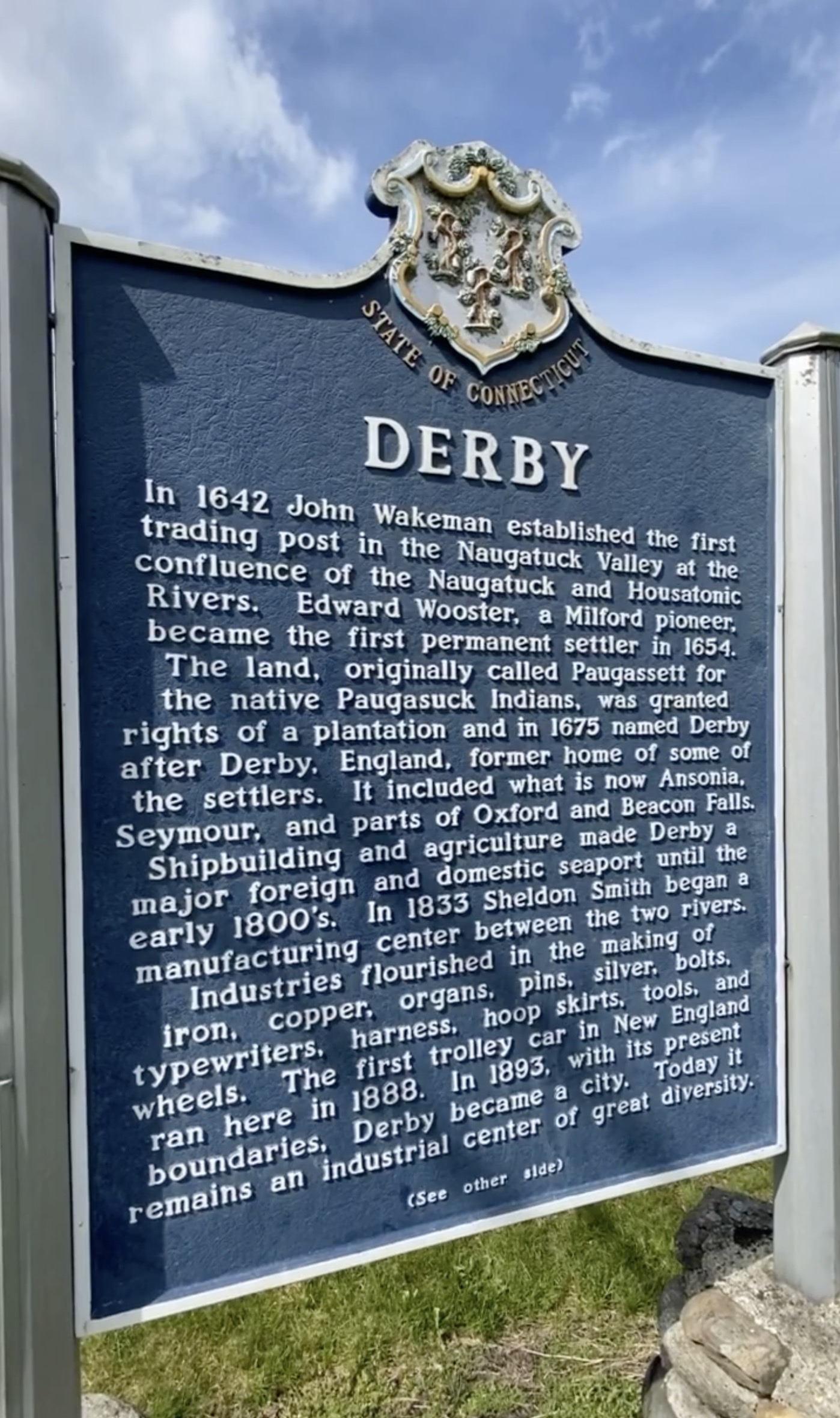 Derby, Connecticut:
"In 1642 John Wakeman established the first trading post in the Naugatuck Valley at the confluence of the Naugatuck and Housatonic Rivers. Edward Wooster, a Milford pioneer, became the first permanent settler in 1654. The land, originally called Paugassett for the native Paugasuck Indians, was granted rights of a plantation and in 1675 named Derby after Derby. England, former home of some of the settlers. It included what is now Ansonia, Seymour, and parts of Oxford and Beacon Falls. Shipbuilding and agriculture made Derby a major foreign and domestic seaport until the early 1800's. In 1833 Sheldon Smith began a manufacturing center between the two rivers. Industries flourished in the making of iron, copper, organs. pins, silver, bolts, typewriters, harness, hoop skirts, tools, and wheels. The first trolley car in New England ran here in 1888. In 1893, with its present boundaries. Derby became a city. Today it remains an industrial center of great diversity.

BIRTHPLACE OF TWO DISTINGUISHED WARTIME HEROES

GENERAL DAVID HUMPHREYS, aide-de-camp to General George Washington, accepted the British colors at the surrender at Yorktown, Virginia, Friend of both Washington and General Thaddeus Kosciuszko, Polish patriot and hero of the American Revolutionary War.

COMMODORE ISAAC HULL, commander of the frigate CONSTITUTION ("Old Ironsides") which destroyed the British frigate GUERRIERE in the first great naval battle of the War of 1812.

Many brave men and women from Derby also served or gave their lives for their country in all wars in which the United States has engaged.

Erected by the City of Derby
the Old Derby Historical Society
and the Connecticut Historical Commission
1981″
CT Blue Town Sign 5 of 169.
View on Instagram: https://www.instagram.com/p/CN-xu7Bnbi9/