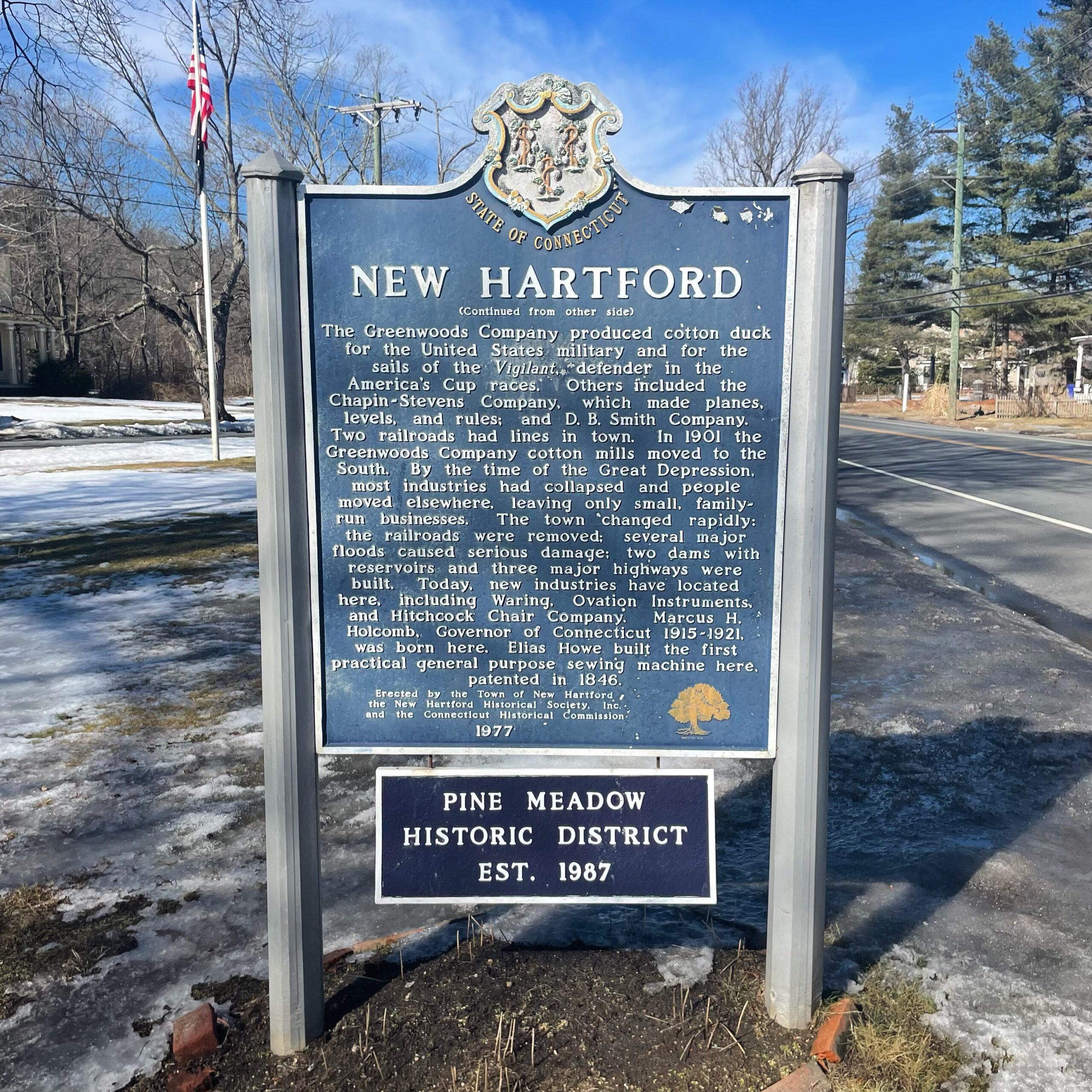 New Hartford, Connecticut:
"In 1732 the Connecticut General Assembly gave Hartford and Windsor permission to establish seven towns in the colony's Western Lands. New Hartford was given to 182 Hartford taxpayers who became the new town's proprietors. They organized and hired surveyors to lay out suitable home lots and highways. Settlement began in 1734 on Town Hill and West Hill. A meetinghouse was completed by 1749 at the town's center on Town Hill. While farming was the main occupation, grist and saw mills soon thrived on the Windsor (now Farmington) and Nepash (or Nepaug) Rivers. In the early 1800's, economic interest shifted from agricultural to industrial and population centers moved from the hilltops to the river valleys. Major industries sprang up in New Hartford Centre (now Nepaug). Bakerville, Satan's Kingdom, Kelloggsville (Pine Meadow), and North Village (now New Hartford Center).

The Greenswood Company produced cotton duck for the United States military and for the sails of the Vigilant, defender in the America's Cup races. Others included the Chapin-Stevens Company, which made planes, levels and rulers; and D. B. Smith Company. Two railroads had lines in town. In 1901 the Greenwoods Company cotton mills moved to the SOuth. By the time of the Great Depression, most industries had collapsed and people moved elsewhere, leaving only small, family-run businesses. The town changed rapidly: the railroads were removed; several major floods caused serious damage; two dams with reservoirs and three major highways were built. Today, new industries have located here, including Waring Ovation Instruments, and Hitchcock Chair Company. Marcus H. Holcomb, Governor of Connecticut 1915-1921, was born here. Elias Howe built the first practical general purpose sewing machine here, patented in 1846.

Erected by the Town of New Hartford
the New Hartford Historical Society, Inc.
and the Connecticut Historical Commission
1977″
CT Blue Town Sign 18 of 169.
View on Instagram: https://instagr.am/p/CZ2Ll-oJ_aw/