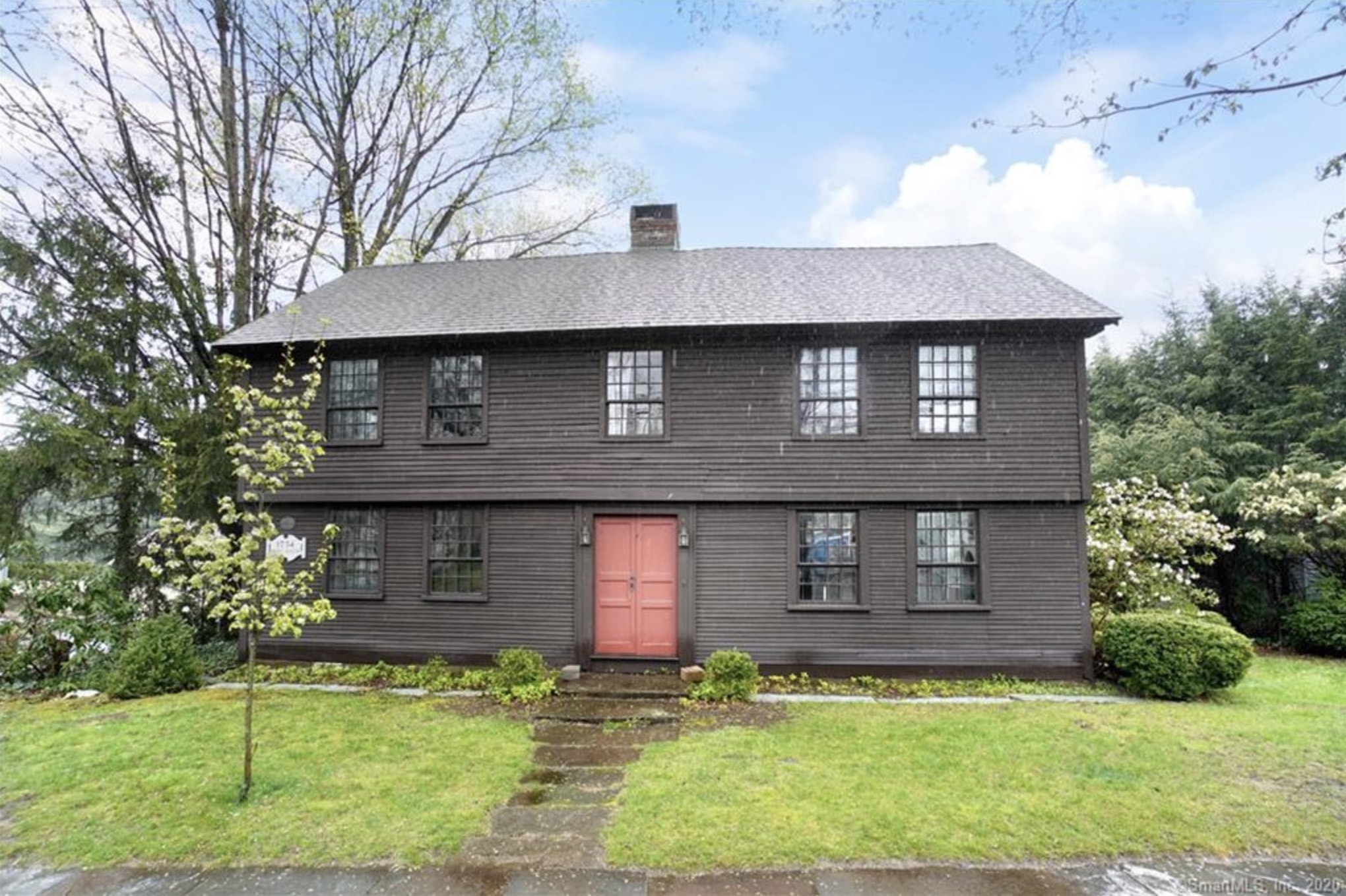 Moses Austin House, Durham, Connecticut:
At 239 Main Street is a modified saltbox home built in 1754, yet part of the structure may have been built in the 1690s. For a short time the dwelling belonged to Moses Austin, though his birthplace was down the street at Elias Austin House. During the 20th century, the house was used as a post office with a shoemaker shop on the second floor. The property was also featured in Connecticut Beautiful by Wallace Nutting (1923) in the "States Beautiful Series" of books.
Moses Austin was a well-known American businessman and a pioneer of the lead industry. He began his career as a merchant in Middletown, Connecticut. He then seized opportunities to sell dry goods in Philadelphia, Pennsylvania. In 1789, Moses and his uncle Stephen Austin became partners in a lead mine on the Virginia frontier but it less unsuccessful. Upon hearing about lead mines in Spanish-controlled lands to the west, Moses obtained rights to property in what is now southeast Missouri from the Spanish Crown in 1798.
Moses Austin built a lead mine, a smelter and a town in Missouri. The settlement prospered until the War of 1812 crashed the lead market and Austin went bankrupt. To rebuild his fortune, he planned to establish an American colony in Texas. He traveled to San Antonio in 1820 to request a land grant from the Spanish Governor. Initially Austin was denied, but he persisted and was eventually granted permission to settle 300 Anglo-American families on 200,000 acres of Texas land. He recruited new colonists throughout the United States to become Texans.
Sadly, Austin became ill on a return journey from Texas and died on June 10, 1821, at 59 years old in Herculaneum, Missouri. Preparations for the Texas colony fell to his son, Stephen Fuller Austin. At 11 years old, Stephen F. Austin had been sent back to New England to be educated at Bacon Academy in Colchester, Connecticut. Eventually the younger Austin would select San Antonio as the site for the new Texas colony. The first Texans began arriving in December of 1821 and by 1832, there were more than 8,000 settlers.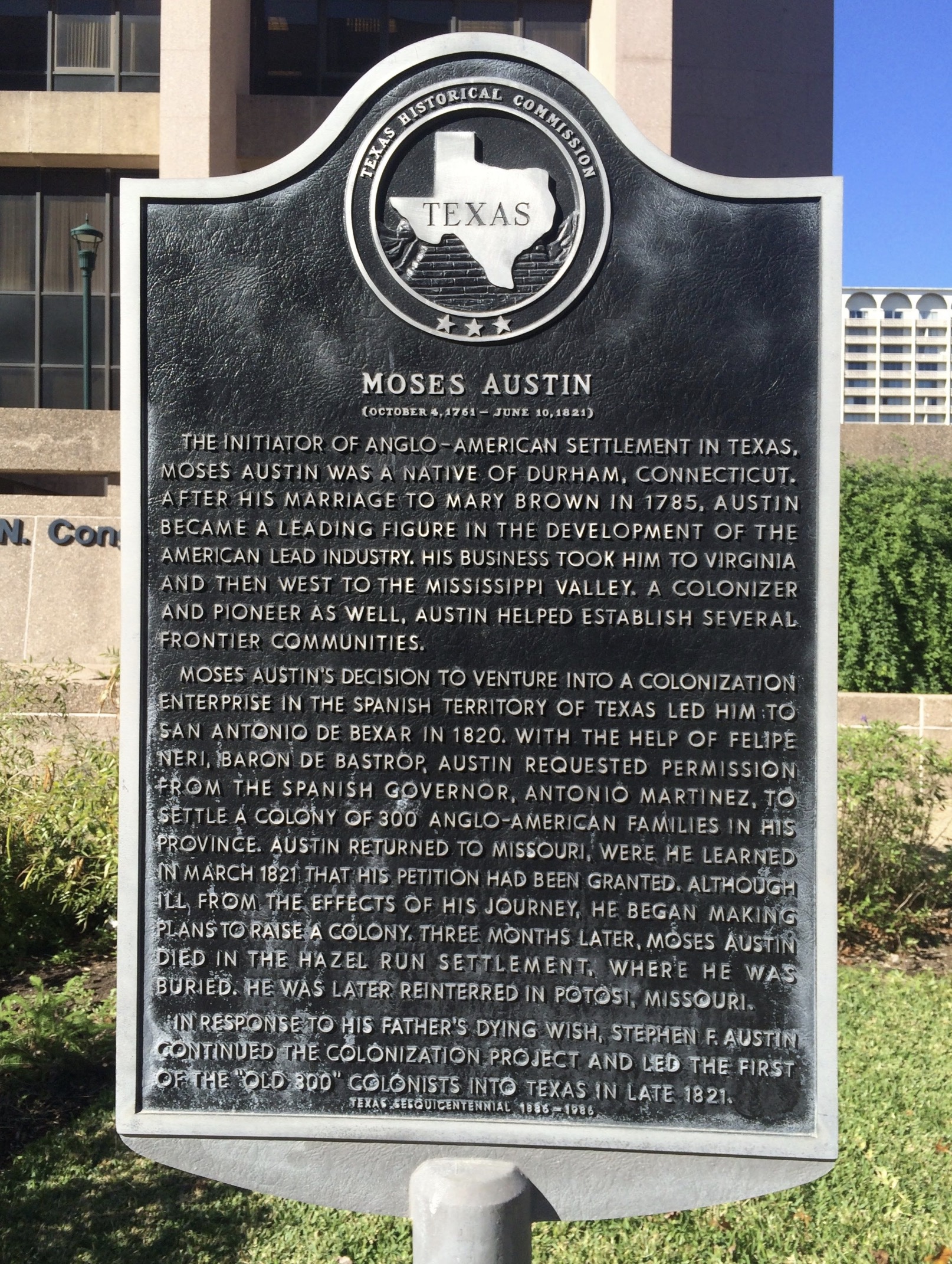 To Native American tribes, the new settlers were intruding on Karankawa territory, a nomadic community recently devastated by European diseases. The surviving Karankawa had frequent deadly confrontations with Texans and killings were committed by both sides. Mexican authorities tried protecting colonists by making peace with the Karankawas, but their efforts failed. Texans, spurred by empresario Stephen F. Austin, banded together to eliminate the native threat. He personally led a military expedition to subdue the Karankawas and the tribe was greatly diminished.
Texans then began to resent the Mexican government and succession sentiments became widespread. In 1834, Mexican officials arrested Stephen F. Austin in hopes of preventing a rebellion. Jailing Austin had the opposite effect and instead influenced many Texans to favor revolt. When Austin was released from prison, he joined the fight for independence, and the Republic of Texas (1836–45) won the war. Stephen F. Austin died of pneumonia later that year. His political rival, Sam Houston said, "The Father of Texas is no more," in recognition of Austin, the state's first empresario.
The following statement is published about Stephen F. Austin on Texas.gov:
"Judged by historical standards, Stephen F. Austin's achievement is monumental. He began an effort, unprecedented in Texas history, to colonize Anglo-Americans in Texas under the most difficult of conditions. Yet through his efforts, some 1,540 land grant titles were issued to some 5,000 people, making him arguably the most successful colonizer in American history. Austin's original colony was the first, most famous and by far the most successful of empresario grants from Mexico."

Texas Parks & Wildlife
Sources:
An Interpretation of the Cultural and Natural History of Stephen F. Austin State Park, Texas Parks & Wildlife, December, 2005.
Moses Austin asks Spain for Texas colony, History.com, November 16, 2009.
Moses Austin on Historic Missourians, by Todd Barnett, June, 2020.