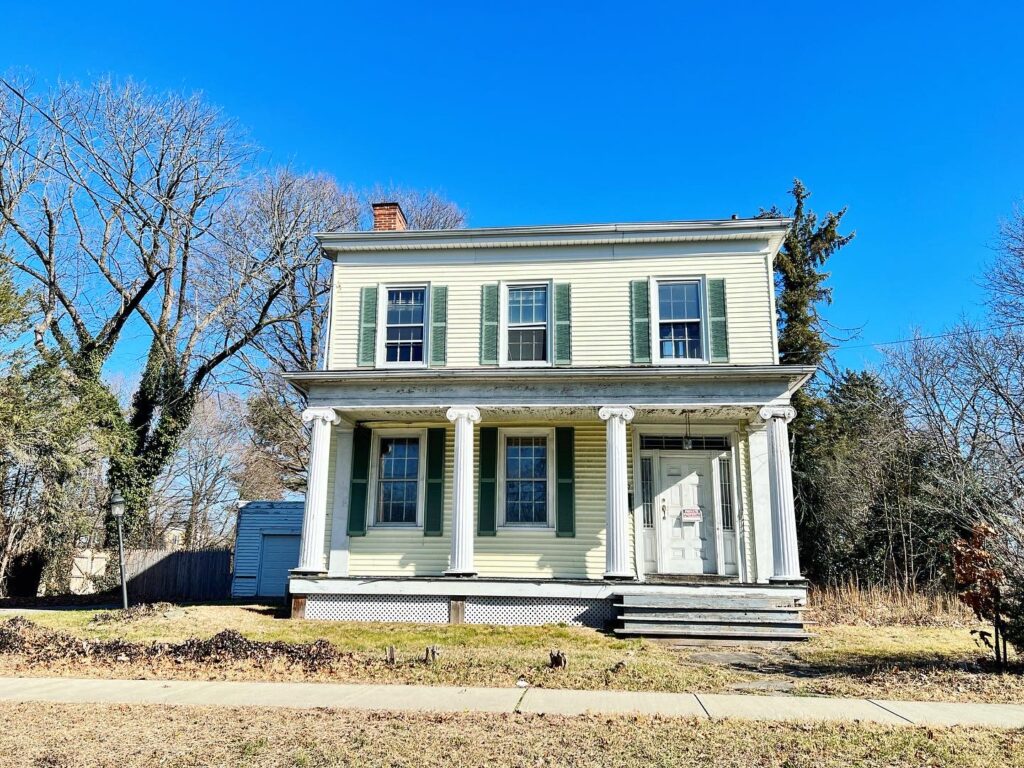 Baldwin House, Milford, Connecticut:
This Greek Revival style house at 67 Prospect Street has a unique backstory. When a doctor and his wife bought the house in the 1960's, they discovered a false wall in a closet and stumbled upon a sermon by Reverend Bezaleel Pinneo, a descendant of Huguenots and seventh pastor at First Church of Milford from 1796 to 1840. Then the couple uncovered a note from 1899 in a hollow wood pillar. It was signed by Charlotte Nettleton, widow of Lewis Nettleton, and it reads:
"This house was built in 1839 by Elisha Peck, son of Capt. Nathan Peck, and William Tibbals. The owner was David L. Baldwin, son of Nathan Baldwin and Avis Durand."
Baldwin served 27 years as Milford Town Clerk and as 12 years as Probate Clerk. His Prospect Street property is part of the home lot of Reverend Peter Prudden (1601-1656), leader of the Hertfordshire, England, settlers who founded Milford in 1639, and first pastor of the First Church of Milford.
The letter found at the Baldwin House penned by Mrs. Nettleton continues: "The water pipe is being laid on Cherry Street. The railroad has been built since the house was built. What the future is about and what changes there shall be, I shall not be here to know."
Here in the future, the Baldwin House has been vacant and disheveled for at least a decade. It's also become the subject of recent controversy. When developers planned to demolish the house and build apartments on the property, a court battle ensued. Since then, the proprietors have agreed to restore the exterior of the home while planning to break ground on a detached 36-unit apartment building.