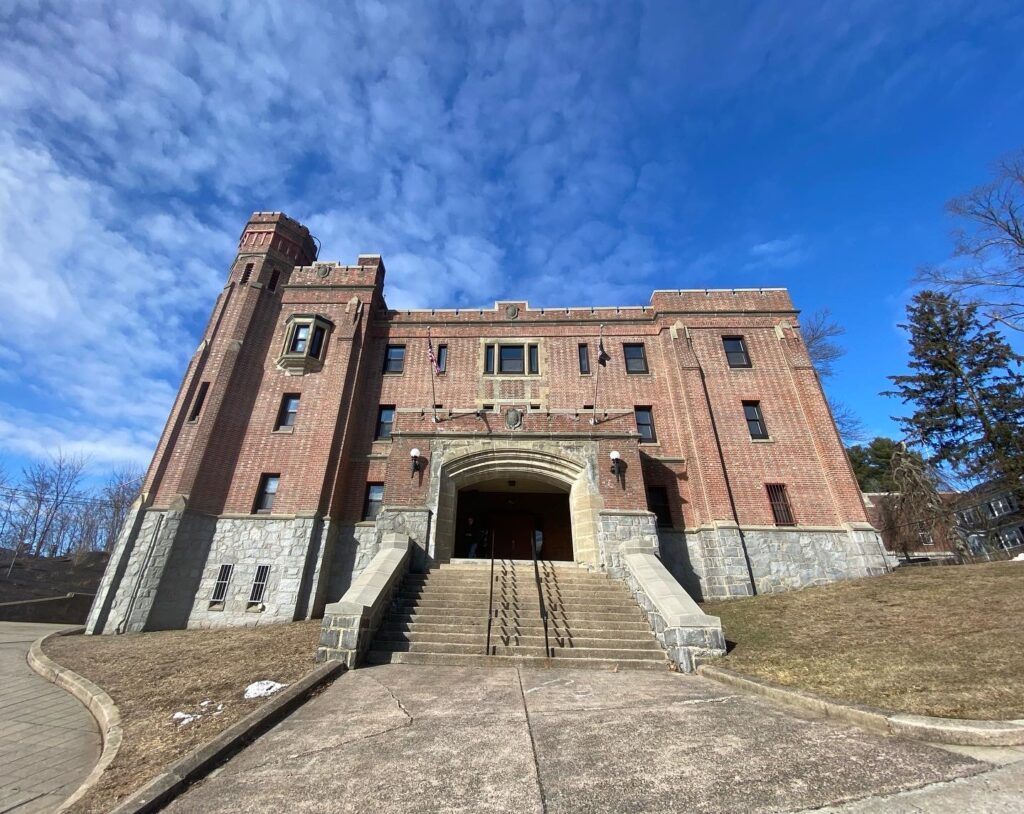 Ansonia Armory, Ansonia, Connecticut:
At 5 State Street is a three-story armory in the Gothic Revival style. The State of Connecticut allocated $174,000 to erect the stone and brick building in 1919. Designs were drawn up by Major Morris B. Payne, a prolific architect from New London. The head contractor was a German immigrant named Max Durrschmidt. Construction finished in time for a military ball commemorating Armistice Day in 1921 and Everett J. Lake, the 67th governor of Connecticut, attended the new armory's dedication.
The armory originally accommodated the 1st Battalion, 102nd Infantry unit. Barracks were on the basement floor and officers' quarters were on the second floor. The property also included an indoor rifle range. A large hall doubled as a gymnasium used for military drills, celebrations and sporting events. Basketball games have been held at the gym since at least 1930.
The location gained national attention in 1932 when a group of wounded war veterans founded the Military Order of the Purple Heart. Chapters began springing up across the country while Ansonia's went by, "George Washington Chapter No. 1, Purple Heart Association of the United States."
In 1933, Ansonia's first armorer, William P. Crawford died at Griffin Hospital. He had been in charge of armory since it was built, and before that Crawford was the coachman at the estate of Charles F. Bliss, President of the Farrel Foundry & Machine Company. The Bliss estate previously stood where the Armory was later built. Crawford switched employers, but worked at the same location for 44 years.
The armory fell into disrepair after several decades of neglect. However, in 2021, renovations were made to the exterior and interior of the property. Updates were spearheaded by the State of Connecticut as well as donors Griffin Health, Lockheed Martin and Ion Bank Foundation.
View on Instagram: https://www.instagram.com/Cx_d-tIPMpO