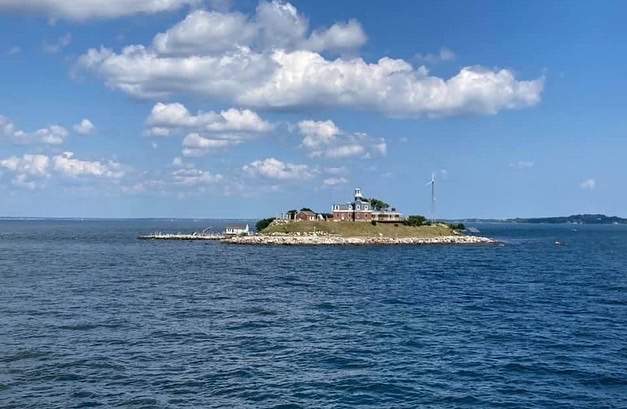 North Dumpling Island, New York:
Three miles off the shore of Groton, Connecticut, is North Dumpling Island and its lighthouse. Even though the island is now considered part of New York, its first legal owner was Connecticut's first colonial Governor, John Winthrop (the younger). The island stayed in the Winthrop family until 1847, when it was sold to the United States government to become the site of a lighthouse. In 1849, a brick and wood shingle lighthouse was constructed measuring 31 feet tall. A fifth order fresnel lens lit the tower by 1871. The lighthouse was deactivated in 1959 and sold as private property.
In 1986, the island was purchased for $2.5 million by entrepreneur Dean Kamen, founder of Segway. After a denial from local officials to build his own wind turbine on the island Kameny declared secession from the United States and even got then president George W. Bush to comply. The island has its own flag, constitution, anthem a "Navy" consisting of one amphibious vehicle. Dean Kamen eventually built his own turbine, which along with several solar panels provides all electricity on the two-acre the island. The people of North Dumpling are called "Dumplonians", and Kamen has referred to himself as "Lord Dumpling" or "Lord Dumpling II". In addition to North Dumpling Lighthouse, the island has a replica creation of Stonehenge.
View on Instagram: https://instagr.am/p/CYXHSvoPMmw/