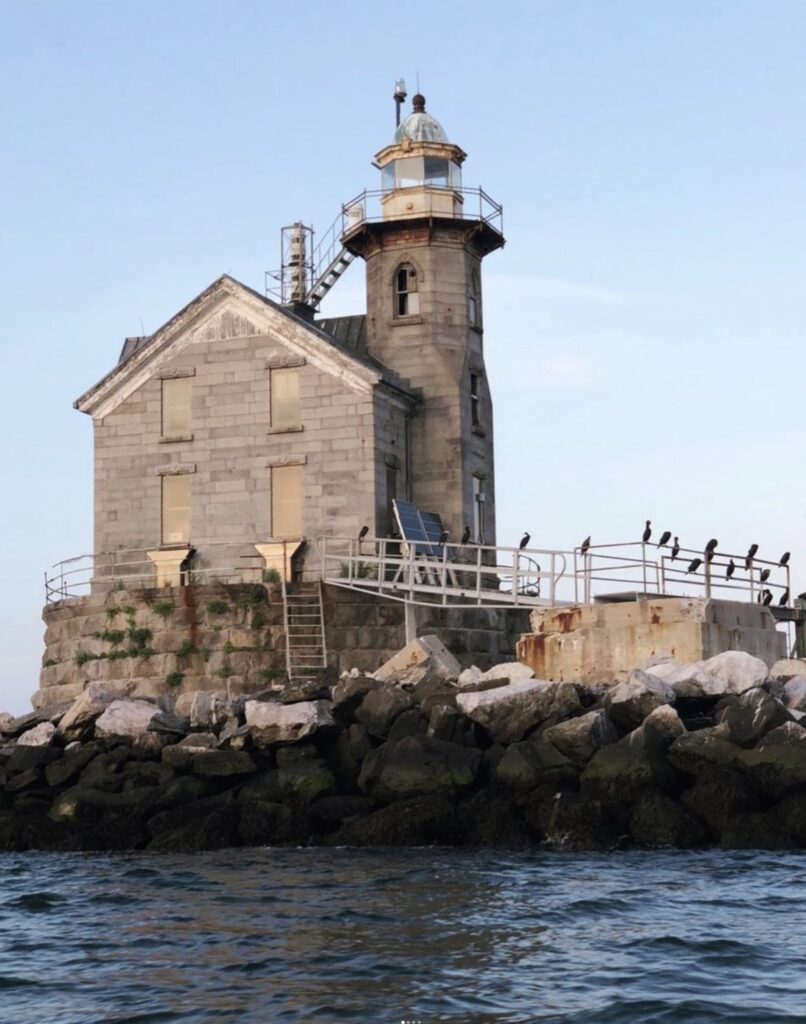 Stratford Shoal Lighthouse, Stratford, Connecticut:
First erected in 1877, the Stratford Shoal Lighthouse is located halfway between New York and Connecticut in Long Island Sound. Alternate names include Stratford Middleground or Middle Ground Light. Its storied past involves rescues, shipwrecks and light keepers gone mad.
Maps of Long Island Sound by Adrian Block from his 1614 explorations charted two islands where Stratford Shoal Light now stands. After centuries, water overtook the islands leaving a dangerous reef about 0.75 mile long. The shoal is located in the middle of Long Island Sound, 5.5 miles from Stratford Point, CT and 5 from Old Field Point, NY. Many rocks are covered by less than a foot of water posing a threat to ships and boats.
The earliest attempt to mark the rocks was around 1820, when buoys were placed on the north and south sides of the shoal. In 1838 a lightship or light vessel was stationed at the southeast end of Stratford Shoal. During service the lightship lost its anchor several times, once drifting to near Faulkner's Island.
In 1872, a lighthouse was commissioned on Stratford Shoal. It was one of the last masonry lighthouses built offshore before cast-iron caissons. The 35' granite, gable-roofed lighthouse was operational in December of 1877. The construction was similar to Race Rock Light, built around the same time near Fishers Island of Southold, New York.
Stratford Shoal Light contained two stories for living quarters for a keeper and two assistants. The station was one of the most isolated and difficult for keepers. In 1905, a keeper went ashore and left 1st Assistant Morrell Hulse and 2nd Assistant Julius Koster in charge. The next night, Koster succumbed to madness and locked himself in the lantern room. He threatened to destroy the light unsuccessfully tried to take his own life.
The light has been automated since 1970. Since then, there has been ongoing disagreement about whether the State of CT or the State of NY claim jurisdiction of Stratford Shoal. However, U.S. General Services Administration recently put up for auction Stratford Shoal Light. The listing identifies the parcel as part of CT, not NY. The highest bidder is currently $60,000.
View on Instagram: https://www.instagram.com/p/CuSKyTaLGdJ