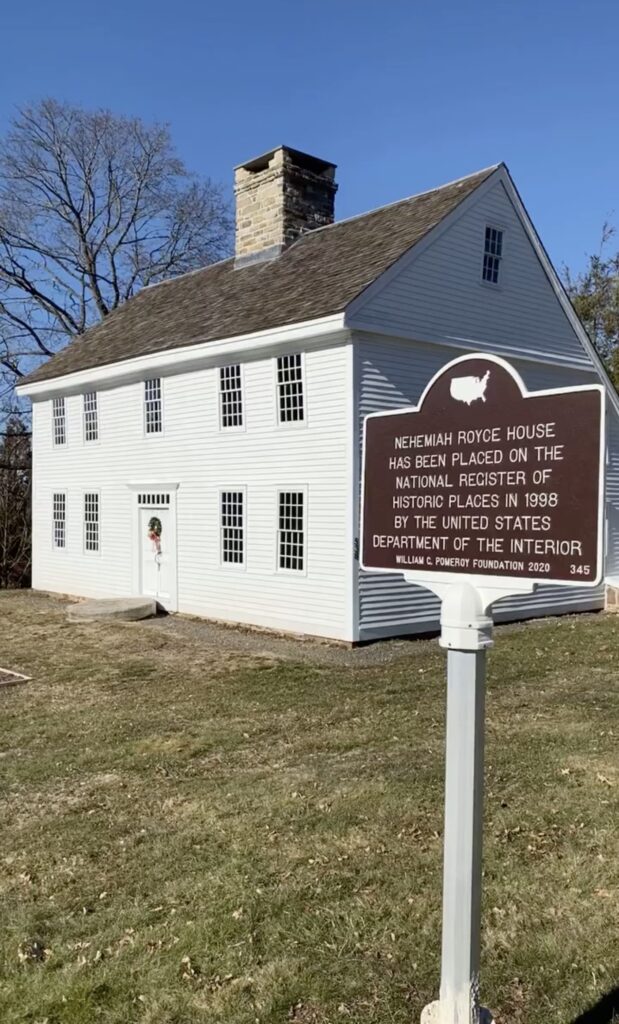 Nehemiah Royce House, Wallingford, Connecticut:
Also known as the Washington Elm House, this historic home is located at 538 North Main Street in Wallingford. The 30′ x 30′ two-story early Colonial saltbox is Wallingford's oldest home. It was built in 1672 by carpenter, blacksmith and shoemaker, Nehemiah Royce. Originally born in England, Royce was one of Wallingford's original 38 proprietors authorized by the Connecticut General Assembly in 1667 to purchase land from Mantowese and Sunk Squa of the Quinnipiac Tribe. Royce was one of the thirteen "Pillars" who founded Wallingford's First Congregational Church. He had nine children and was an ancestor of famous Americans like 13th President Millard Fillmore, Civil War General George B. McClellan, landscape architect Frederick Law Olmsted and actor/director Clint Eastwood.
George Washington visited the Nehemiah Royce House twice. His first visit was in 1775 while on his way to take command of the Continental Army in Cambridge, Massachusetts. He purchased gunpowder in town and reportedly addressed the townspeople from the front stoop of Royce house. Then in 1789 Washington came here during his first presidential tour.
View on Instagram: https://www.instagram.com/reel/CKb-qx8Deub/