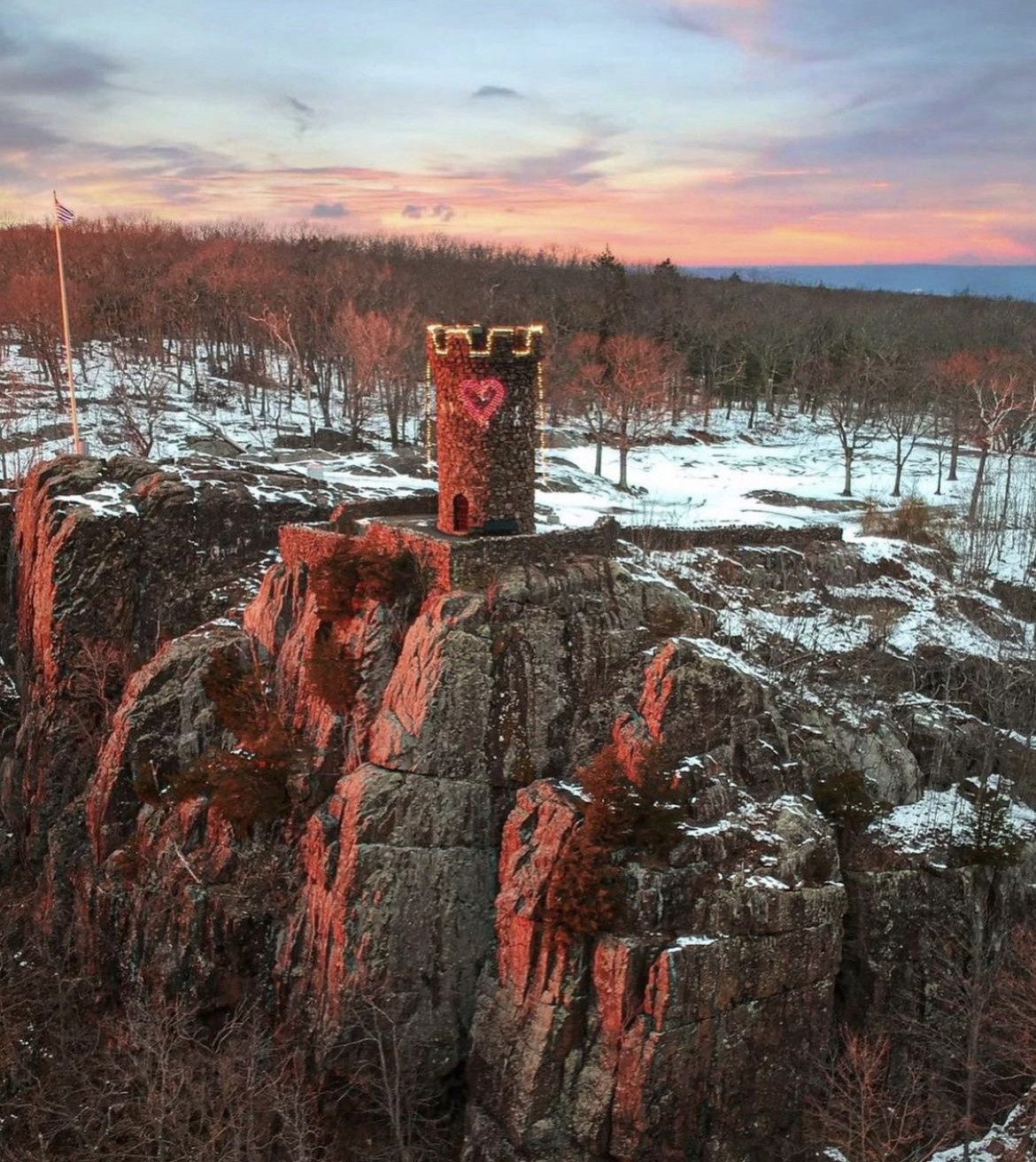 Castle Craig, Meriden, Connecticut:
On East Peak in the Hanging Hills of Meriden is an observation tower constructed of trap rock. The structure is 32 feet tall and has a base 58 feet in circumference. A metal interior stairway is used to ascend the observation deck on top. Castle Craig stands 976 feet above sea level and provides a panoramic view over Meriden, the Quinnipiac River Valley, and on clear days, to as far as Long Island.
Castle Craig was dedicated October 29, 1900 and gifted to the people of Meriden by Walter Hubbard president of the Bradley & Hubbard Manufacturing Company – the city's greatest philanthropist. The structure is part of the 1,800-acre Hubbard Park which bears his namesake. On October 29, 1900 dedicatory exercises were held at which Mr. Hubbard formally presented the Tower to the City of Meriden.
Members of the Court of Common Council and other dignitaries attended an oyster roast in the shadow of the tower. Westbound trolleys were crowded with people en route to the dedication who had a long, arduous trek, on foot, to the tower. There were also a number of persons who drove to the top of the mountain in their own carriages.
At 2 PM, approximately 250 guests were in attendance. Their genial host, Mr. Hubbard, had provided six barrels of oysters and clams. These were roasted over a big fire under the direction of C.W.F. Pardee of the Winthrop Hotel and P.J. Quigley, a local contractor, with the assistance of twelve men. Three cheers were given to Mr. Hubbard by the visitors. Judge Wilbur F. Davis, acclaimed Mr. Hubbard as the "first citizen" of Meriden. A Civil War era American flag was raised atop the tower at noon by Contractor Quigley and as it floated to the breeze 3 rousing cheers were given.
The origin of Castle Craig's name is often disputed. When the landmark was first dedicated, some Meriden residents called it Hubbard Tower. Some say the tower was modeled and named after the Craigellachie Bridge in Moray, Scotland. The Celtic word "craig" or "creag" means rock. The following is a poem from the Meriden Weekly Republican newspaper on June 19, 1902: