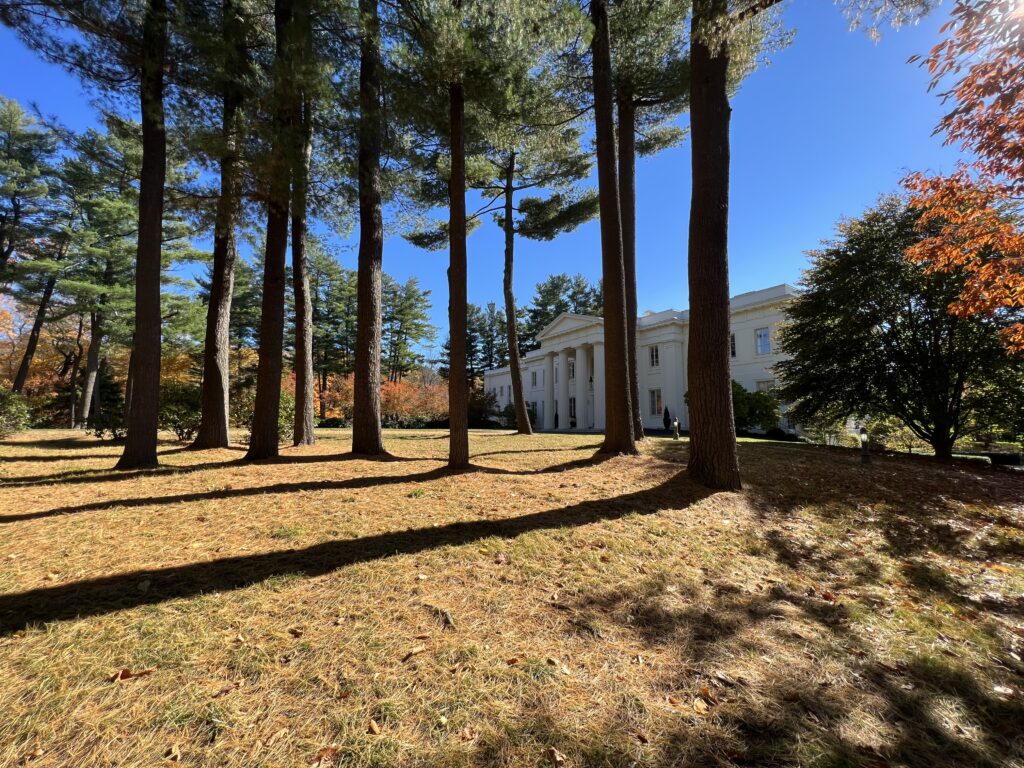 Wadsworth Mansion, Middletown, Connecticut:
This Gilded Age estate was built for Colonel Clarence S. Wadsworth and his wife Katharine Fearing Hubbard. They commissioned the mansion to rival country houses of Newport, Rhode Island and to preserve the natural beauty of the Long Hill area. Contracted for $90,000 in 1908, the 18,000 square feet structure was laid out by architects Hoppin & Koen of New York City. The Neoclassical architectural design included Greek columns on the north facade and Roman-themed arches on the south facade. Renowned landscape architectural firm, the Olmsted Brothers, devised its 500 acres in the tradition of a working landscape.
After Colonel Wadsworth died in 1941, a portion of the property was willed to the State of Connecticut for use as a public park, now known as Wadsworth Falls State Park. In 1947, the mansion became a convent for the Religious of our Lady of the Cenacle. By 1986 the mansion changed hands again and fell into disrepair. Preservationists and conservationists took the lead to salvage the historic residence. Eventually, Middletown bonded $5.8 million dollars following a city-wide referendum, and the Wadsworth Mansion and grounds were completely rehabilitated by the year 1999.
Today, Wadsworth Mansion is owned by the City of Middletown, overseen by the Long Hill Estate Authority and supported by the nonprofit, Friends of Long Hill whose mission is, "To support and foster Long Hill Estate as an historical park and Mansion, and to promote its use as a public and community resource."
 

 

View this post on Instagram

 
View on Instagram: https://www.instagram.com/p/CkOjKlhp770/