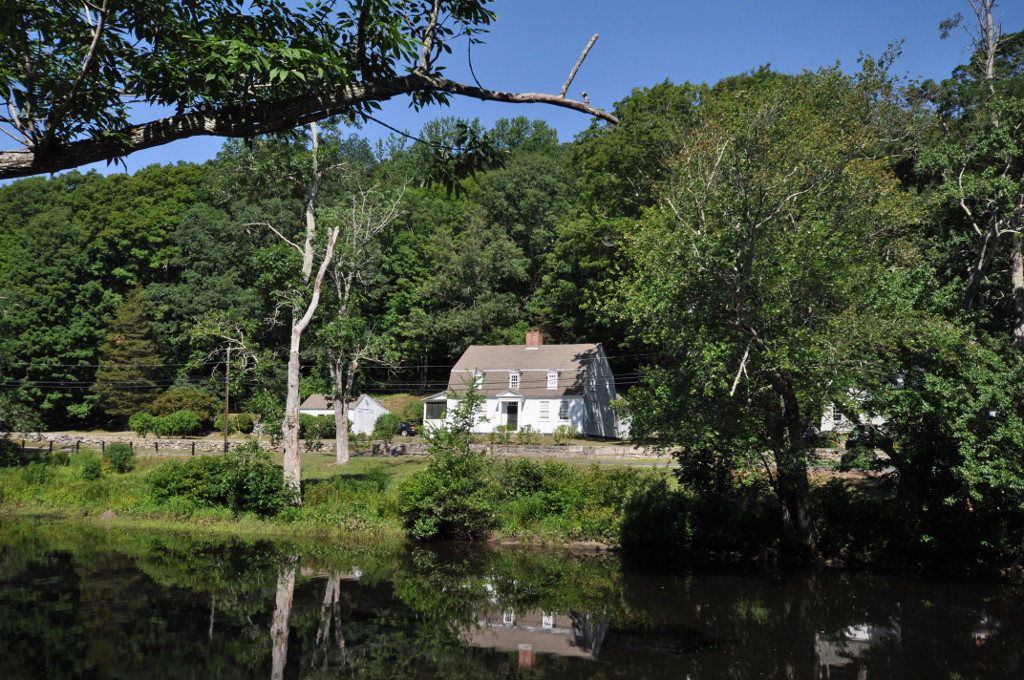 Vivian Marino | New York Times | December 31, 2021
A Frenetic Housing Market in the Suburbs, and Then a Cooling Off – By late summer, many real estate agents in the New York suburbs began to notice that the 'crazy bidding wars' weren't happening quite as often.
For much of 2021, the suburban New York real estate markets continued to be dominated by bidding wars, long lines at open houses and rising prices, as the housing inventory in many communities fell short of demand.
Fueling the frenetic activity, which started in mid-2020, was the allure of still-low mortgage rates, along with an influx of pandemic-weary city dwellers and new millennial buyers. At the same time, homeowners were holding onto their properties longer, many unable to afford to upgrade.
"It was the same story across all the suburbs," said Jonathan J. Miller, a Manhattan-based real estate appraiser who also monitors suburban markets.
But as the year came to a close, real estate agents across the region reported a cooling off in sales activity, a shift many began to notice by late summer. "The panic buying has subsided, and the crazy bidding wars are less common," said Andy Sachs, an agent with Keller Williams who works primarily in Fairfield and Litchfield Counties, in Connecticut.
Typical seasonal factors and sheer fatigue were partly at play. "Everyone needed a break, even real estate agents," said Caroline Gosselin, an agent with EXP Realty, in Montclair, N.J., adding that the market "is still very healthy."
Several reasons seem to be behind this pause. Agents and market watchers cite the lack of inventory and rising prices, as well as the end of the recent exodus from the city.
The main factor, Mr. Miller said, is "collapsed inventory." Many suburbs still have fewer homes than usual for sale, a trend that began before the pandemic.
"There's demand, but buyers have nothing to buy," said James Gavin, an agent with Compass in Manhasset, N.Y., on the North Shore of Long Island. "When a decent house comes on, it's usually grabbed quickly."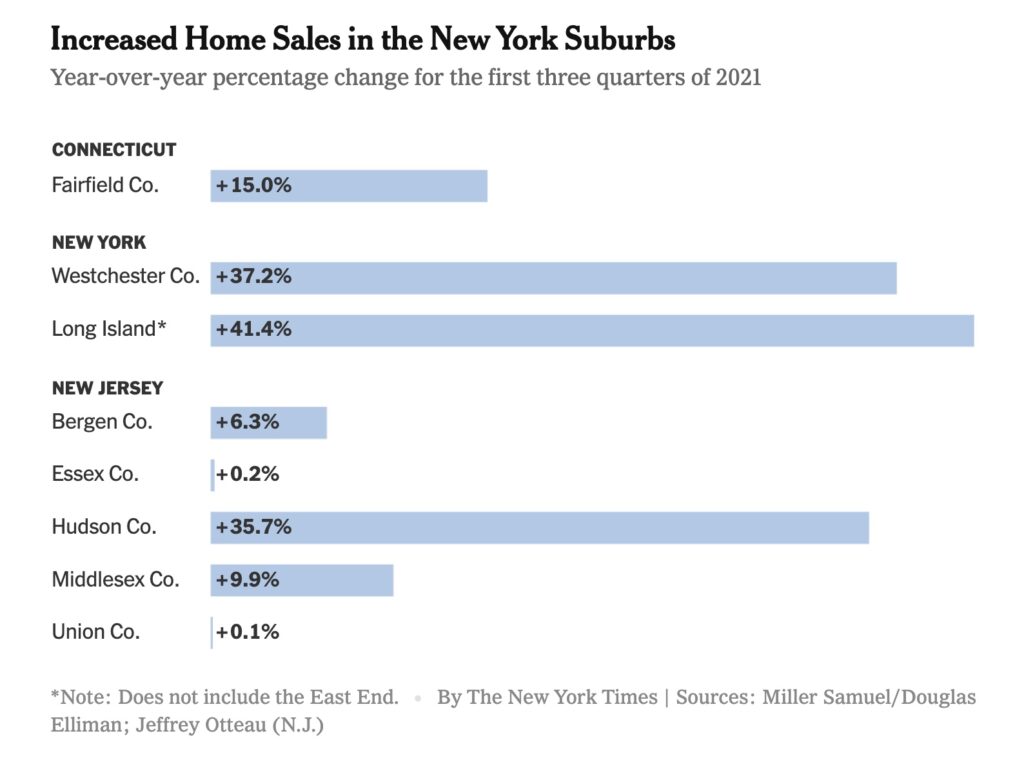 Mr. Miller's most recent market report for Douglas Elliman Real Estate found that during the first three quarters of 2021, the stock of available single-family homes in the suburban markets he follows fell sharply from a year earlier. Westchester County, N.Y., saw a 22 percent drop; Fairfield County, nearly 26 percent; and Long Island (excluding the Hamptons and the North Fork), 22 percent. Going back to the same period in 2019, the gap is even more pronounced.
The lack of inventory has meant more competition, which has driven up prices, putting additional pressure on some buyers and sidelining others. On Long Island, where the median sale price jumped 17 percent, to $550,000, more than half of the homes sold for over the asking price in the third quarter, the Douglas Elliman report found. (In Westchester, the median sale price rose 7 percent, to $639,000; in Fairfield, it rose 13 percent, to $540,000.)
In New Jersey, home prices were up 17 percent over all from the previous year by the end of the third quarter, said Jeffrey G. Otteau, the president of the Otteau Group, based in Matawan, N.J. The recent norm, he said, had been around a 3 percent annual increase.
"Salaries are not going up 17 percent a year," Mr. Otteau said. "Any time prices rise faster than salaries, affordability gets out of balance."
Some buyers have been scared away by those rising prices. "They're afraid of buying at the top of the market," said Jennifer Meyer, a Compass agent in Larchmont, N.Y., "so they're taking more time now."
Another cause for the market slowdown has been the decrease in the number of residents from New York and other local cities rushing to the suburbs. "The city was once seen as unsafe and the suburbs a refuge, in the early days of the pandemic," Mr. Miller said, but those sentiments have lessened with the availability of coronavirus vaccines and treatments.
And as Maria Babaev, a broker at Douglas Elliman in Roslyn, N.Y., noted, "Whoever wanted to exit already had — to the suburbs or to other states."
Mr. Sachs agreed, adding that "people are still coming from the city, though it's not being driven by Covid anymore."
"A lot of it is because of systemic changes in how Americans go to work, and the fact that they don't have to be in the office every day," he said. "And it's generational. Many millennials married later, or had kids later. They now want a yard and a neighborhood with good schools."
Amy and Justin Reitman fall into that category. The couple, who have a toddler and an infant, recently bought a four-bedroom colonial on a third of an acre in Morris Township, N.J. They came from a one-bedroom rental in Chelsea in the summer of 2019, but first rented in Verona, N.J., while exploring neighborhoods.
"The market in April and May was insane," said Ms. Reitman, 38, who worked in the fashion industry and is now a stay-at-home parent. "There were crazy lines just to get into a house."
"We took a step back over the summer," she added, and were happy that they didn't have to pay too much over the asking price when they finally found a house.
Waiting also benefited Massella Dukuly, 31, who works for a learning development consultancy. She and her partner were coming from the Upper East Side, and they also rented first, in Hastings-on-Hudson, N.Y., before recently buying a four-bedroom modern farmhouse on 2.3 acres in Newtown, Conn.
"By waiting and not being restricted by school schedules, because we have no kids, we were able to get a good deal," Ms. Dukuly said. "We have a good foundation space-wise to feel confident about starting a family."