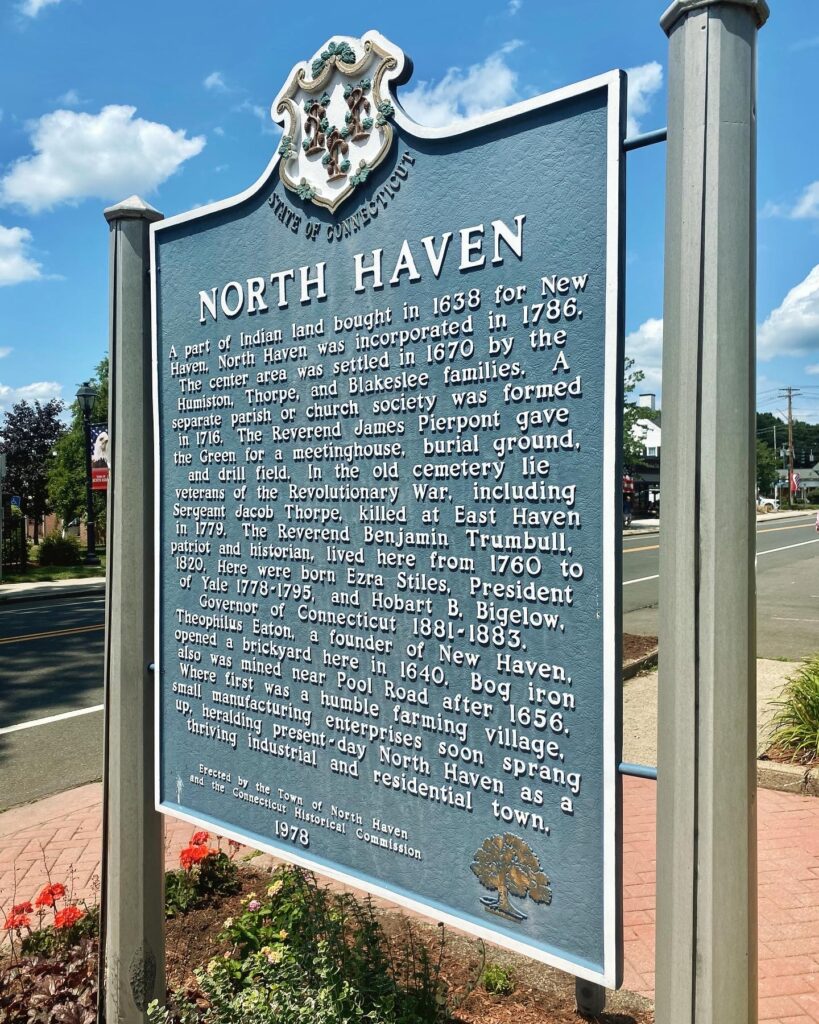 North Haven, Connecticut:
"A part of Indian land bought in 1638 for New Haven, North Haven was incorporated in 1786. The center area was settled in 1670 by the Humiston, Thorpe, and Blakeslee families. A separate parish or church society was formed in 1716. The Reverend James Pierpont gave the Green for a meetinghouse, burial ground and drill field. In the old cemetery lie veterans of the Revolutionary War, including Sergeant Jacob Thorpe, killed at East Haven in 1779. The Reverend Benjamin Trumbull, patriot and historian, lived here from 1760 to 1820. Here were born Ezra Stiles, President of Yale 1778-1795, and Hobart B. Bigelow, Governor of Connecticut 1881-1883. Theophilus Eaton, a founder of New Haven, opened a brickyard here in 1640. Bog iron also was mined near Pool Road after 1656. Where first was a humble farming village, small manufacturing enterprises soon sprang up, heralding present day North Haven as a thriving industrial and residential town.

Erected by the Town of North Haven
and the Connecticut Historical Commission
1978″
CT Blue Town Sign 36 of 169.
View on Instagram: https://instagr.am/p/CoK0wS5J4p0/