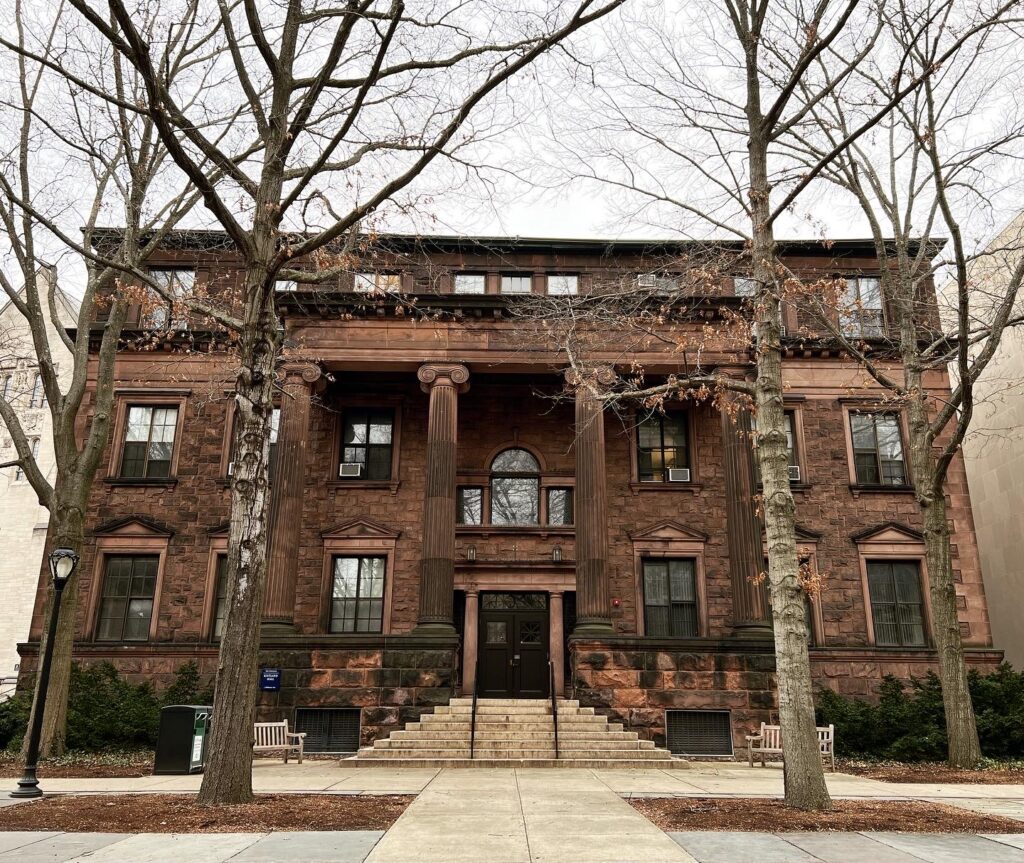 Kirtland Hall, New Haven, Connecticut:
At 2 Hillhouse Avenue is a four-story Classical Revival built of brownstone in 1902. One of New Haven's most generous philanthropists, Lucy Hall Boardman, gifted the building to Yale University as a memorial to her uncle, Jared Potter Kirtland. In 1813, Kirtland became the first medical student enrolled at Yale. The Wallingford-born Kirtland was a prominent doctor, natural scientist, abolitionist and legislator.
Jared was the son of Turhand Kirtland, a Revolutionary War veteran, an agent of Connecticut Land Co. and a settler of the Western Reserve of Ohio. Instead of going with his father to Ohio, Dr. Jared Kirtland practiced medicine in Wallingford and was elected Probate Judge. Then he served as a physician in the Town of Durham until the untimely passing of his wife Caroline and one of their three children. A grieving Dr. Kirtland set out for Poland, Ohio, to start anew with his second wife, Hannah Toucey.
In Ohio, he established a cherry orchard and a rural laboratory to study flora and fauna. He produced new varieties of cherries including Kirtland's Mary cherry. He documented the animals in and around Lake Erie such as snakes, birds and mollusks. Kirtland's warbler and Kirtland's snake are species bearing his name. Due a shortage of doctors in eastern Ohio, he eventually returned to practicing medicine.
Dr. Kirtland relocated to East Rockport, Ohio, (now Lakewood) and founded institutions which became the Case Western Reserve University School of Medicine and the Cleveland Museum of Natural History. From 1828 to 1834, he served as an Ohio State Representative and led penitentiary reform. During the Civil War, Kirtland was the state's chief medical examiner. He advocated against slavery as a conspirator within Ohio's Underground Railroad. Kirtland was elected an Associate Fellow of the American Academy of Arts and Sciences and made a member of the American Philosophical Society. He died at his residence in East Rockport, December 10, 1877, aged 84 years. 
When Lucy Hall Boardman commissioned Kirtland Hall in New Haven, she selected as architect, her cousin, Kirtland Kelsey Cutter, great-grandson of Jared Potter* Kirtland. Since then Kirtland Hall has housed Yale's Sheffield Scientific School, the Department of Geology, the Department of Psychology and it remains a space for learning today. Meanwhile in a town named Kirtland, Ohio, the population is nearing 7,000.
*Yale's website incorrectly identifies Kirtland as "Porter" instead of Potter.
Sources
1. The Morning Journal-Courier, May 30, 1902.
2. The Akron Beacon Journal, January 25, 2015.
3. The Lakewood Observer, February 2, 2022.
4. Encyclopedia of Cleveland History.
5. The Historical Marker Database. 
View on Instagram:
https://instagr.am/p/CoESMa5s488/