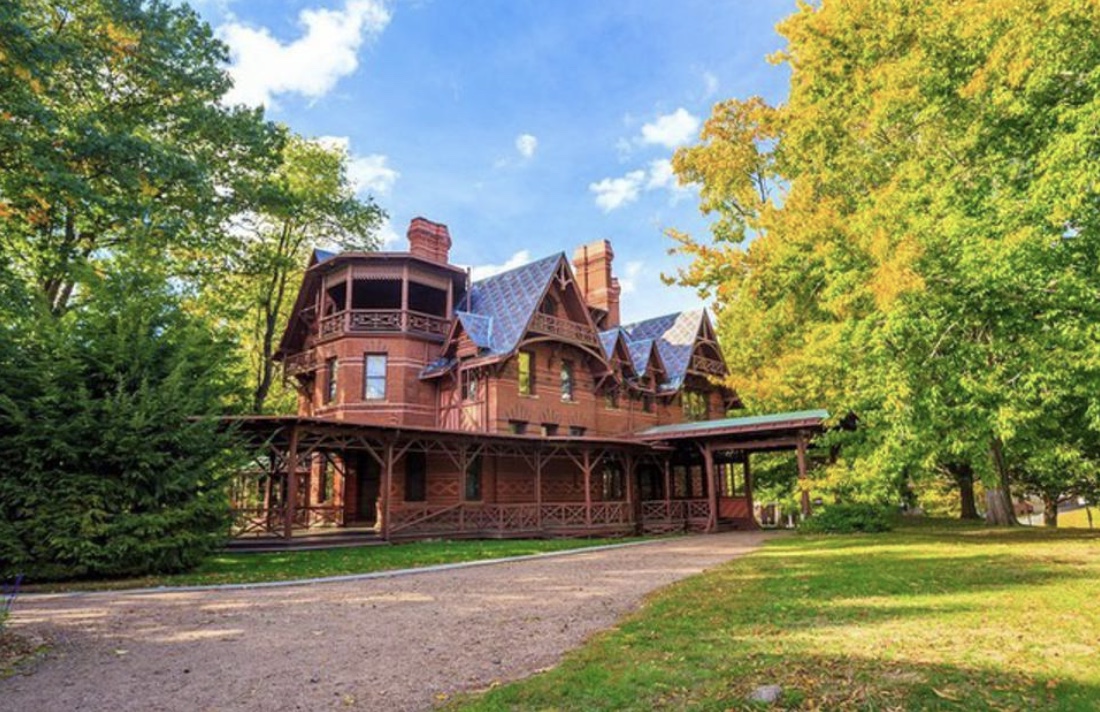 Regina Cole | Forbes.com | November 19, 2021
House museums are a mixed bag: maybe the house is beautiful, but its owner's story, not so much, as at Monticello. Or, consider Frank Lloyd Wright's Fallingwater: a more spectacular home would be hard to find, but it's hard to imagine living in it. Hearst Castle is magnificent, but we don't love William Randolph Hearst or his taste for decorative excess. 
The Mark Twain House in Hartford, Connecticut, however, has it all: inspiring architecture, gorgeous interior design, lovely grounds and stories about its original owners and occupants that are fascinating, heart-warming and inspiring. This is the place to learn about the work and the life of Samuel Clemens, and to see Victorian high style at its best. 
A luxurious new boutique hotel nearby makes the trip an all-around grand aesthetic experience that even the irascible Mark Twain would have approved. 
In 1873 Sam and Olivia Clemens engaged New York architect Edward Tuckerman Potter to design their Hartford home. The couple spent $40'000 to $45'000 building the Gothic Revival, Stick style house, which measures 11'500 square feet and has 25 rooms on three floors. In 1881, they hired Louis Comfort Tiffany and his craft guild, Associated Artists, to decorate the walls and ceilings of the public spaces in their home' particularly the newly enlarged entry hall.
Poor financial investments prompted the Clemens family to move to Europe in 1891. Their daughter Susy, who had stayed in Hartford, died at home of spinal meningitis in 1896. Sam and Olivia could not bring themselves to live in the house after this tragedy and spent most of their remaining years living abroad. They sold the house in 1903.
The building later functioned as a school, an apartment building and a public library branch. In 1929, it was rescued from possible demolition and put under the care of the newly formed non-profit group Mark Twain Memorial. A restoration effort led to its being opened as a house museum in 1974. In 2003, a multimillion-dollar, LEED-certified visitors' center was built that includes a museum dedicated to showcasing the author's life and work. A 1999 restoration and preservation brought the house and grounds back to the state that they were in between 1881 and 1891, when the Clemenses most loved the house. The home today contains 50,000 artifacts, including manuscripts, historic photographs, family furnishings and Tiffany glass.
This was hardly the life Samuel Clemens was born to. Growing up in Missouri, where slavery was legal, he left school after the fifth grade to become a printer's apprentice. Throughout a career that included work as a journalist, a miner, and, most famously, a riverboat pilot, he became increasingly more progressive. Much of his radicalization was due to his wife's influence; Olivia came from a family of wealthy Abolitionists. To tour his house today is to learn about this thoughtful, well-traveled writer and humorist and to see that he was happiest when with his family. 
It is also to see Tiffany's exquisite stenciling on the walls and ceilings of the entry hall and drawing room, Candace Wheeler's gorgeous honeycomb wallpaper in the Mahogany Room, the dining room's faux tooled leather walls and the library's enormous oak mantelpiece, originally in Ayton Castle in Scotland. The nursery has endearing Walter Crane wallpaper and the Clemens bedroom is dominated by a cherub-populated bed that Sam and Olivia bought in Venice. One of the most beguiling spaces is the conservatory, called "the jungle" by the Clemens daughters.
When traveling to see the Mark Twain House, stay at a hotel Mr. and Mrs. Clemens would have loved, the Delamar in West Hartford. Ten minutes from the museum, the 103-room boutique hotel features personal service, a lobby filled with art via a partnership with the New Britain Museum of American Art, visits by Douglas, the therapy dog, and luxurious rooms illuminated with plentiful natural light. A few have bathrooms with slipper-shaped soaking tubs. This is where Mr. Clemens, aka Mark Twain, would have relaxed with one of his beloved five-cent cigars.
Link to original article: https://www.forbes.com/sites/reginacole/2021/11/19/the-mark-twain-house-is-americas-best-house-museum/?ss=real-estate&sh=78526026718a