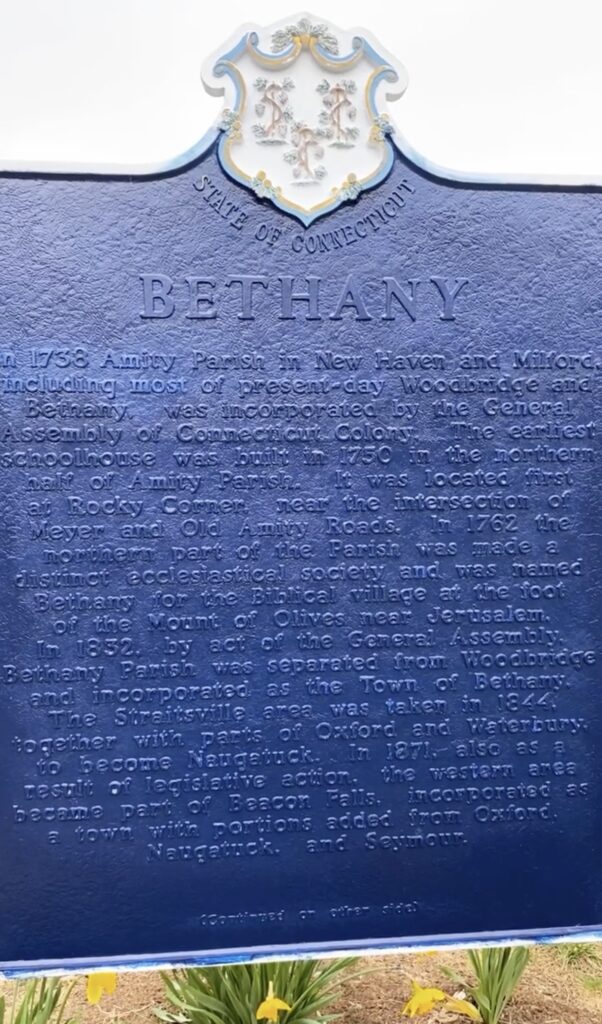 Bethany, Connecticut:
"In 1738 Amity Parish in New Haven and Milford, including most of present-day Woodbridge and Bethany, was incorporated by the General Assembly of Connecticut Colony. The earliest schoolhouse was built in 1750 in the northern half of Amity Parish. It was located first at Rocky Corner, near the intersection of Meyer and Old Amity Roads. In 1762 the northern part of the Parish was made a distinct ecclesiastical society and was named Bethany for the Biblical village at the foot of the Mount of Olives near Jerusalem. In 1832, by act of the General Assembly, Bethany Parish was separated from Woodbridge and incorporated as the Town of Bethany. The Straitsville area was taken in 1844, together with parts of Oxford and Waterbury, to become Naugatuck. In 1871, also as a result of legislative action, the western area became part of Beacon Falls, incorporated as a town with portions added from Oxford, Naugatuck, and Seymour.

Some notable examples of architecture dating from the period before incorporation of the town still stand in the vicinity and are attributed to David Hoadley (1774 – 1839) of Waterbury, a self-taught builder-architect who became a leading designer of church buildings in the first decades of the 19th century. His skill in domestic construction is displayed in the Beecher (or Hoadley) House of 1807 with very fine detail both on the exterior and in the central hall and rooms of the interior. Christ Church, Episcopal, dating from 1809, is also from the hand of Hoadley. During its construction, services were held in the upstairs ballroom of the Beecher House. The church is little changed on the outside, but the interior reflects extensive alterations made in accordance with changing taste over the last one hundred years. Regarded as the high point of Hoadley's achievement is United (North) Church of 1814 on the New Haven Green.

Erected by the Town of Bethany
and the Connecticut Historical Commission
1981″
CT Blue Town Sign 4 of 169.
View on Instagram: https://www.instagram.com/p/CNierRzHA3v/